Then: The Holiday Bowl just before it's shuttering in the late 90s.
I REMEMBER the exact day my
second novel
,
Southland
, was born. It was the day in 1996 when I first went to the
Holiday Bowl,
a bowling alley and coffee shop in L.A.'s Crenshaw district. The coffee shop was full at that breakfast hour, the tables occupied by black and Japanese customers, mostly elderly, all eating together. A Japanese waitress in her sixties handed me a menu. They had hot links— and sushi, and red beans and rice, noodles, and of course, jambalaya.
At the next table sat a pair of elderly men, one Japanese, and one black. They were arguing about the Dodgers—
the 1964
Dodgers—and it was clear this was a debate they'd been having for decades. Watching them, and all the people there, I thought I'd stumbled into heaven. Those Dodger fans reminded me of my own group of peers -- the black, Latino, and Asian kids who all hung out together, and whose friendships befuddled our less racially accepting parents. We'd had no models among our parents of such cross-racial ties, and so the older folks at the Holiday were a revelation. Sitting in the middle of that mixed-race crowd, it was as if I'd found my long-lost family.
The next week, I started researching the Crenshaw district. I learned that Crenshaw -- along the heart of L.A.'s black community—had once had a significant Japanese population. When Japanese-Americans were sent off to internment camps during World War II, their black neighbors watched over their houses. When African-Americans were speaking out during the civil rights movement, their Japanese friends stood beside them.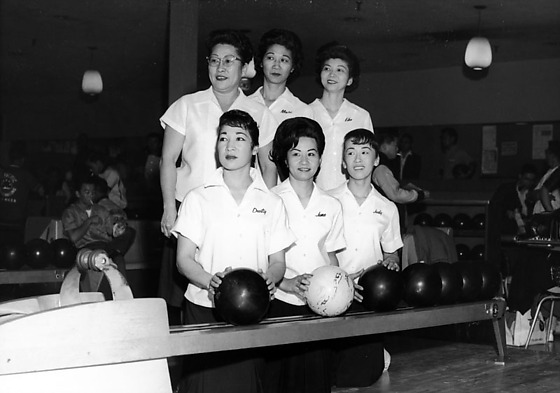 Holiday Bowl team, via Japanese Heritage Museum
That first visit to the Holiday Bowl lit my imagination, and I started writing my book a few months later. I took an idea that had been incubating for years—the rumor of an unsolved multiple murder during the Watts Riots—and set it in the Crenshaw district. My main characters were a Japanese-American shopkeeper and the black friends who spent time in his store. Several critical scenes took place in my version of the Holiday Bowl.
Two years ago, the Holiday was closed. It was purchased by real estate developers who want to demolish the old building and replace it with yet another strip mall. Now, while the city's Cultural Heritage Commission is debating its fate, the Holiday stands empty, boarded up, and covered with graffiti.
Because my novel was just published this spring, I've been able to add my voice to all of the others who are trying to save the Holiday Bowl. But what I feel goes beyond my civic regret that a community institution may be destroyed. What I feel is personal. It's as if the grandfather on whose knee I heard so many stories has slipped into a coma. And his condition, the imminent loss, makes me even more aware of my debt. Because the Holiday didn't just give me a book—it gave me a history, a place to belong.
via synthetrix.com
I'm not vain enough to think that if the Holiday Bowl is destroyed, it will live on only in my novel. But I'm still struck by the sense that I captured something just before it was lost forever. And I think that other people are, too. I recently gave a reading here in L.A., and many of the people in the audience had some tie to the Crenshaw district, and those who did knew the Holiday Bowl. "My father bowled there after work," one black woman told me. And a Japanese man had this response, which meant as much to me as any review: "You got it right," he said, "Thank you. That's just how I remember it."
- Nina Revoyr
(Editor's Postscript: After a long, emotional fight, the Holiday Bowl building was saved and protected by the Los Angeles Cultural Heritage Commission. The lanes and cafe are long gone -- replaced by a Walgreen's and Starbucks, but as you see below the architectural notes remain -- a reminder of mid-century intersections and optimism
.)
Now
Check out this site regarding the Holiday Bowl Project: http://holidaybowlcrenshaw.com/index.htm